| | | |
| --- | --- | --- |
| | Purchase | |
| | | |
| --- | --- | --- |
| | Airtime | |
| | | |
| --- | --- | --- |
| | Manufacturers | |
| | | |
| --- | --- | --- |
| | Quick Find | |
| | | |
| --- | --- | --- |
| | Information | |
| | |
| --- | --- |
| Unlimited Talk N Text Plan | |

Page Plus Unlimited Talk and Text plan $44.95/mo
Unlimited Talk
Unlimited Text
Unlimited Picture / Media Messaging
20MB of Data / Internet Are you a big time talker?
Do your fingers do a lot of talking?
Like to check E-Mail on the go and surf the web?
Like to keep up on MySpace, Facebook, Twitter?
If so, PagePlus has the plan for you, at an affordable price!

Talk and Text Rates
Unlimited Talk n Text plan costs $44.95/mo for unlimited domestic voice minutes, unlimited domestic text messages, plus 20MB of data for internet and picture mail usage.
Airtime renews every 30 days, from the date of your last airtime replenishment.
Activate with a Unlimited Talk and Text activation card.
Refill with a Unlimited Talk and Text card or a standard airtime card.
Additional rates or fees for Roaming, International and 411 information apply.


| | | |
| --- | --- | --- |
| Service | Charge | Rate |
| Monthly Fee (charged every 30 days) | Monthly for unlimited domestic voice minutes, unlimited domestic text messages, and 20 MB of data | $44.95/month† |
| Calls to Puerto Rico | per minute | 12¢ |
| Calls to Mexico (Landline), Canada & Guam | per minute | 34¢ |
| Calls to Mexico (Cellular) | per minute | 49¢ |
| Calls While Roaming | per minute | 29¢ |
| International Text Messaging | per message sent or received | 20¢ |
| Picture Messaging (MMS) | per message sent or received | 10¢ + Data Transport* |
| Data Transport* | per KB | $0.0006/KB (60¢ per MB) |
| Directory Assistance (411) | per call + per minute | $1.25 + airtime |


0 items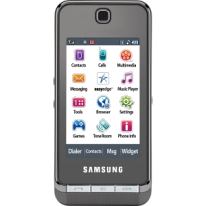 Samsung R800 Delve
$129.99
$109.99

| | | |
| --- | --- | --- |
| | Bestsellers | |
| | | |
| --- | --- | --- |
| | Wholesale_Pricing | |